Professional Dallas Air Conditioning Repairs
Texas Ace Heating & Air is one of the local leading service providers for air conditioning repairs in the Dallas area. Your air conditioning is our top priority, and we want to ensure that it is running the way it should be.
Living in Texas means the need for a functional air conditioner, almost all year long. The work we do will help you have adequate and efficient cooling whenever you need it. Call Texas Ace Heating & Air for all your air conditioning needs!
We offer prompt and professional service for air conditioning repairs, so you don't have to overpay to get the quality service you deserve. For the best possible care for your air conditioning, put your trust in Texas Ace.
---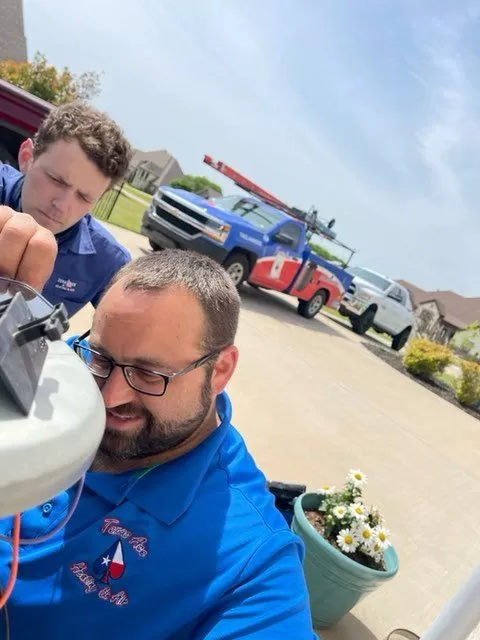 ---
---
You don't just want air conditioning repairs; you want the best possible service there is. You can rest assured that we're the Dallas/Fort Worth air conditioning company that will provide it and take care of issues such as:
One of the most common problems that will come up with your AC unit is that the outside fan will stop working. Keep this component free from debris in order to prevent problems. However, if it stops working you will need us to take care of this for you.
Systems that still use Freon may run low on this. This refrigerant is what cools the air pumped into your home. If it runs low, or out completely, your system will still run but it won't cool your home.
If the coil freezes up, your AC won't work properly, or at all. There are a number of reasons this may happen but all of them require an HVAC professional to take care of it.
---
---
Texas Ace Heating & Air will always go the extra mile to ensure that your job is handled correctly. Our professional commitment to customer satisfaction is how we've earned the impeccable reputation we have.
You and your loved ones should be able to enjoy the comfort our your cooling system within your house. Our skilled HVAC technicians help make that possible. Call us today for all your air conditioning needs in the Dallas/Fort Worth area!
---