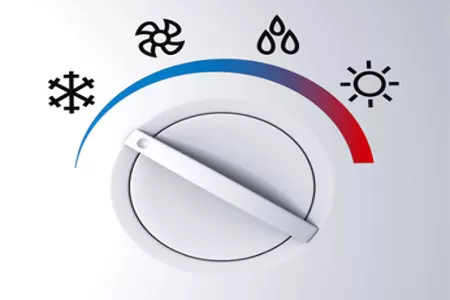 Tips For Staying Cool This Summer
Summer is in full swing and the needle on that thermometer is going up, up, up. Lots of folks love the Texas heat but there isn't one of us who at one point or another doesn't want to get some reprieve and cool down.
We've got some great tips for both outdoors and indoors so that you can enjoy all that our fair state has to offer while keeping you cool and comfortable.
Outdoor Comfort Tips
Yes, it's hot, but we all need to get out and do things at some point during the day. Here's what you should know.
Plan your activities. When possible, limit strenuous outdoor activity to mornings or early evenings. Avoid over-exerting yourself between the hours of 12pm and 7pm which is when the hottest hours of the day take place.
Stay hydrated by drinking plenty of water. In extreme heat, a person can start to dehydrate in a relatively short period of time. In many cases, you won't even realize it until it's too late so be proactive and drink that H2O. In conjunction with drinking plenty of water, you'll want to avoid caffeine and alcohol as these ingredients can speed up the dehydration process.
Dress for the weather. Lightweight and light-colored breathable clothing will help you from becoming over-heated. A hat can also be a great addition to help keep the hot sun off your face.
Look for shady areas. When the sun is at its highest and you are in direct sunlight, your body temperature can go up by 15 degrees. Be aware of the areas where you can get some shade and use them to cool down and replenish.
Use cooling towels. Pack a small cooler with ice and put a couple of damp towels in there to take along with you when you go out. Anytime you feel the heat, reach in and grab one to cool your face and body down. So refreshing!
Get out of the city. Buildings and asphalt in the city can hold a lot of heat. If you have the time and the means, get out of the city where the breeze will be better and you won't be bogged down by all the heat the city holds in. Extra bonus if you can find a body of water like a pool or lake to soak in! Just don't forget the sunscreen.
Indoor Comfort Tips
Keeping cool indoors in Texas is a lot easier than outdoors but you don't want to pay the price with higher energy bills.
Make sure your HVAC is optimized. Schedule a maintenance check with Texas Ace Heating & Air to make sure everything is working just as it should. Also, make sure that the outdoor part of your unit is not covered with plant growth or debris and that indoors you are using clean filters.
Install a programmable thermostat. Using a programmable thermostat has so many benefits. With the ability to program your temperature preferences, you'll be able to conserve energy and be comfortable when you need it most. In the Spring and Fall, we can find ourselves using both air conditioning and heat in the same day. By programming this auto change over, you're avoiding using the 'maximum demand' needed in a manual change over. When you have the settings perfected, you and your family will enjoy comfortable temperatures indoors at any time of the day without having to think about it.
Use Fans. Both ceiling and stand fans help circulate the air in your home eliminating dead spots and help maintain a consistent temperature throughout. Fans are also much less expensive to run than your air conditioner.
Keep the sun out. Make sure that blinds and drapes are closed all the way to keep the heat of the sun out of your home. Planting trees around your home will also do wonders for blocking sunlight.
Switch your light bulbs. LED, fluorescent and lower watt bulbs give off a lot less heat than the standard incandescent bulbs do. This simple change can make a big difference.
Be mindful of appliance usage. Hot stoves and ovens, dishwashers, and laundry appliances all give off a lot of heat. Instead, grill your food, air dry dishes, and hang your laundry outside to dry. If you must use these appliances, do so during the cooler hours of the day.
If you think you're A/C needs a check-up or you want to install programmable thermostats, Texas Ace Heating & Air has helped hundreds of Dallas/Fort Worth residents do just that. Call us at 817-240-6701 or contact us online to make sure you are cool AND saving money this summer.